Piano Improvisations by Ben Dowling • Visual Explorations by Mark Wagner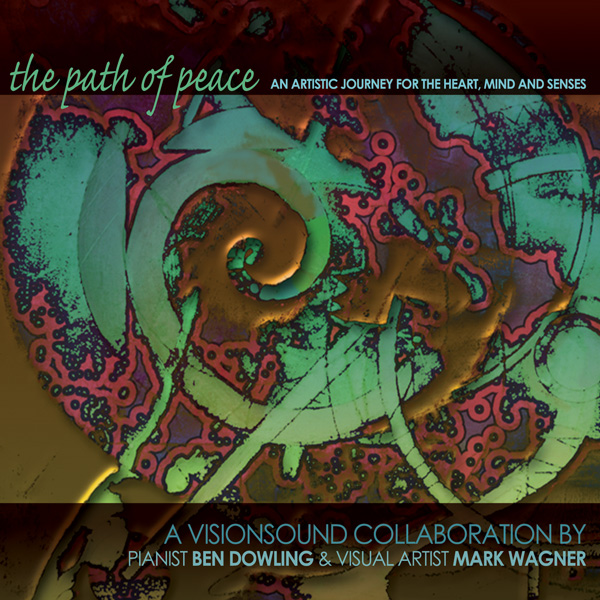 A "Visionsound" Experience
I'm the kind of person who likes to join influences that come from different worlds – in order to see what kind of cool things can come from that.
For years, people talked about "multimedia" like it was the future, but most people who talked about it were techies more than artists. As a person who straddles both worlds, I was interested in taking a technology – like DVD multimedia – and utilizing it for artistic purposes.
This was the genesis of the Path of Peace project – joining visual art with surround-sound inspired audio. It's kind of a long story, but the short synopsis is that I got together with the best painter I ever knew—a guy named Mark Wagner—and created something that I hope will stand the test of time.
The Path of Peace is a musical project – based upon the music first. Then visual images – original pieces of visual art – were selected and "scored" to the music, fitting the images and their movement to the pacing of the music.
The result of this experiment is The Path of Peace DualDisc – which is a CD of the music and a DVD of the multimedia on a single disc.
The above is an internet-friendly video. But the real project on DualDisc is super high resolution that can be used for public spaces, meditation groups or on a living-room television set or computer laptop. It is a solo piano experience recorded in surround-sound like nothing you've ever heard. A full hour of music and visual art, in 12 delicious helpings…
Oh, and another thing: you can actually set up the DVD to play randomly, so it can become an environment for living, learning and processing.
The project changes the quality of the space where it's played. It brings a peaceful, heartful feeling tone to a space. I think that could be very valuable as a healing tool. In life, there are lots of places where peace could do some good. This is a great – and easy – way to do just that.
[add link for more]