Two Models…
Music is the flow factor.
For film, TV, multimedia—commercial or artistic—music is the essence of flow. It gives linearity where it's needed.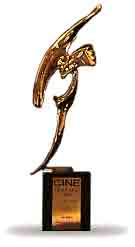 While it is possible to create multimedia content with pre-produced musical components—libraries and existing assets—the faster, better, more "director-responsive" model is to compose the music for the form.
The reasons are many. When music is designed for the film, the orchestration speaks to the character of the piece; the vibe of the music is always on point; the feel of the work is streamlined, efficient and appropriate. The music can be scaled, sculpted and shaped as the "character" that it so often plays.
You just can't do any of that with pre-recorded and pre-packaged music.
Below are a few examples of music I've composed for visual media (film, TV, documentary, etc.). Just click. To get a better idea of the variety of musical scope, please listen to examples on this page and elsewhere on the site:
Process:
When scoring to picture, my first step is defining the instrumentation for the project. I find that there is a magic set of instruments (and sounds) that make supporting the overall feeling tone of the film ridiculously easy and provides the character and consistency required to hold the scenes together into a cohesive whole. I also find that the right instrumentation provides lots of interesting musical ideas – with harmonies and melodies suggesting themselves.